Betdaq UK Betting Exchange
BETDAQ is a world leader in the new and exciting arena of exchange betting, the fastest growing sector in the betting industry.
About BETDAQ
BETDAQ, The Betting Exchange now matches over £20 million per week. With this level of liquidity added to Betdaq's low commission rate, BETDAQ users get the best value in the UK betting exchange market place. Can you afford not to look?

Betting with BETDAQ
BETDAQ users get more choice - to back or lay, to take the odds or ask for better, to bet anything from £2 to thousands of pounds. The odds available to BETDAQ users average out at 20% better than those available from traditional betting outlets, with this applying to every event, every day.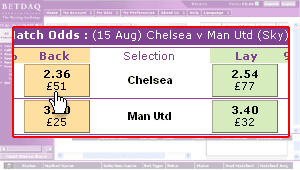 Back or Lay on the Betdaq Exchange
Visit: Betdaq.co.uk